Skymont's investment in a leading developer in HCMC, Vietnam has supported its growth as a pioneer in incorporating sustainability elements in its landmark projects in HCMC.
Our Portfolio Company
SonKim Land is a leading developer in HCMC specializing in developing high-end, transformational residential and commercial projects, which have won nearly 30 prestigious industry awards since 2015. The developer has been a sustainable building pioneer in Vietnam, including the development of Sentinel Place, the awardee of the "2011 Best Office Development in Vietnam" and one of the first Grade A offices located in the heart of Hanoi.
SonKim Land on the meaning of its Logo: "Inspired by nature, the green background of tropical leaves represents the vibrancy of life and the purity of nature. The image expresses the desire to contribute more value to life as well as transparency in all activities of SonKim Land. Three pieces forming the letter S on the green background represent three key elements: Heritage, Art and Lifestyle. For SonKim Land, sustainability is …our contribution to the community for mutual development and towards better values in life."
Sustainable Development Example — Metropole Thu Thiem
Metropole Thu Thiem is a 7.6-hectare high-profile mixed-use development situated in the core of the Thu Thiem New Urban Area, District 2, HCMC. With the serial launch of three high quality residences over 2018-2020, and Grade-A premium office complex on the way, the iconic Project is transforming the surrounding area into a modern lifestyle model that balances the fast CBD work rhythm with supportive living amenities and versatile recreational choices.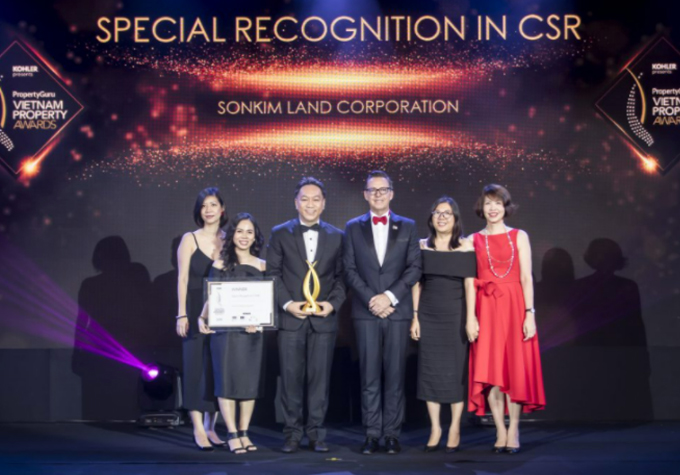 The Galleria Residence, Phase I of the Project, received "Special Recognition in CSR" awarded by the Vietnam Property Awards in 2019 for its success in creating high quality living experience
The 200,000-sqm Grade A premium office complex will contribute 30% of Grade A office space in HCMC's new CBD upon completion. The office complex will target Green Mark Gold Certificate under the BCA Green Mark Certificate Scheme.
Key building features shall include:
Climatic responsive design
Building energy performance evaluation
Resources stewardship
Smart and healthy building
Advance green efforts